About BetterTogether
BetterTogether Salford is a programme for families to get out and get active together in the Salford area. It is being delivered by BetterPoints, in partnership with Salford NHS CCG and Salford City Council. Parents and carers are encouraged to walk with their children to the shops, school or just to the park and earn BetterPoints by recording that activity on the free app. BetterPoints can then be used to buy things families need or special treats.
Parents can download the app and link their account to the child's unique BetterTogether code on their key tag in the pack. They will earn 500 BetterPoints straight away for doing this. Information about how to download and register on the app using the unique code on the child's key tag are in the Getting Started Guide in the Child's pack and on the BetterTogether Website www.bettertogether.betterpoints.uk. More information about rewards and points earning opportunities can be found below.
The Behavioural Science
The importance of getting active at an early age and making this the habit of a lifetime is well known but changing behaviour is not easy. The BetterTogether programme is grounded in established psychological theories of motivation and the latest thinking in behavioural science. In particular, the Self Determination theory which asserts:
The need to show skill or mastery
The need for connectedness
The need for independence
The COM-B theory recognises the importance of Capability, Opportunity and Motivation in changing behaviour. Determining and voicing goals for a project can help children to visualise an outcome and can drive them to drive forward with their proposed purpose. However, they must have the opportunity and capability to do so, for children under the age of 11 this is not always possible without support from a parent or carer. They may want to get out and get active but are not allowed to go out alone or have no open space nearby they can access without supervision.
The Pack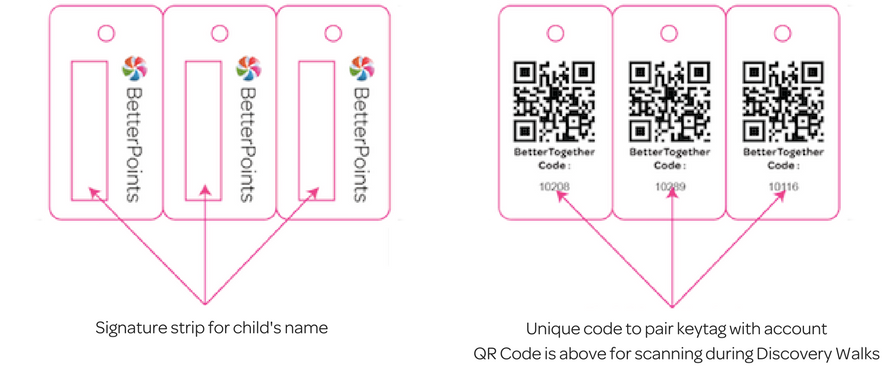 You will have received a pack for each child that will contain:
A key tag with QR code and unique promo code
An information leaflet about how parents can download the app and get involved by going on "Discovery Walks" in and around Salford
A BetterPoints logo colouring sheet for reception and year 1
A "Goal setting" bookmark for years 2-6, which can also be coloured.
The pack is designed to be given out as part of a PE, PSHE or Citizenship lesson in the context of teaching children about the importance of being physically active and how getting active with friends and family can be even more beneficial because of the social interaction.
On each of the key tags, there's a QR code. Within the BetterPoints app, the parent or carer can click on "Scan QR Code" when in a discovery area and receive a prize draw entry for 50,000 BetterPoints to be given away by random prize draw each month. Details of how to do this are also in the Get Started guide in the child's pack, along with a map of the discovery areas in Salford where you can earn bonus points for getting out and exploring together.
Younger children of age 6 and below have a large BetterPoints Logo to colour. We encourage children to be as creative as possible and children can submit their logos for an entry into the BetterTogether colouring contest. Parents can email a picture of their child's creation to us at customercare@betterpoints.uk we'll be giving away 5 lots of 5,000 BetterPoints for our favourites and display their creations in a story on our website as well as feature the pictures on our twitter and Facebook pages. (With parental permission).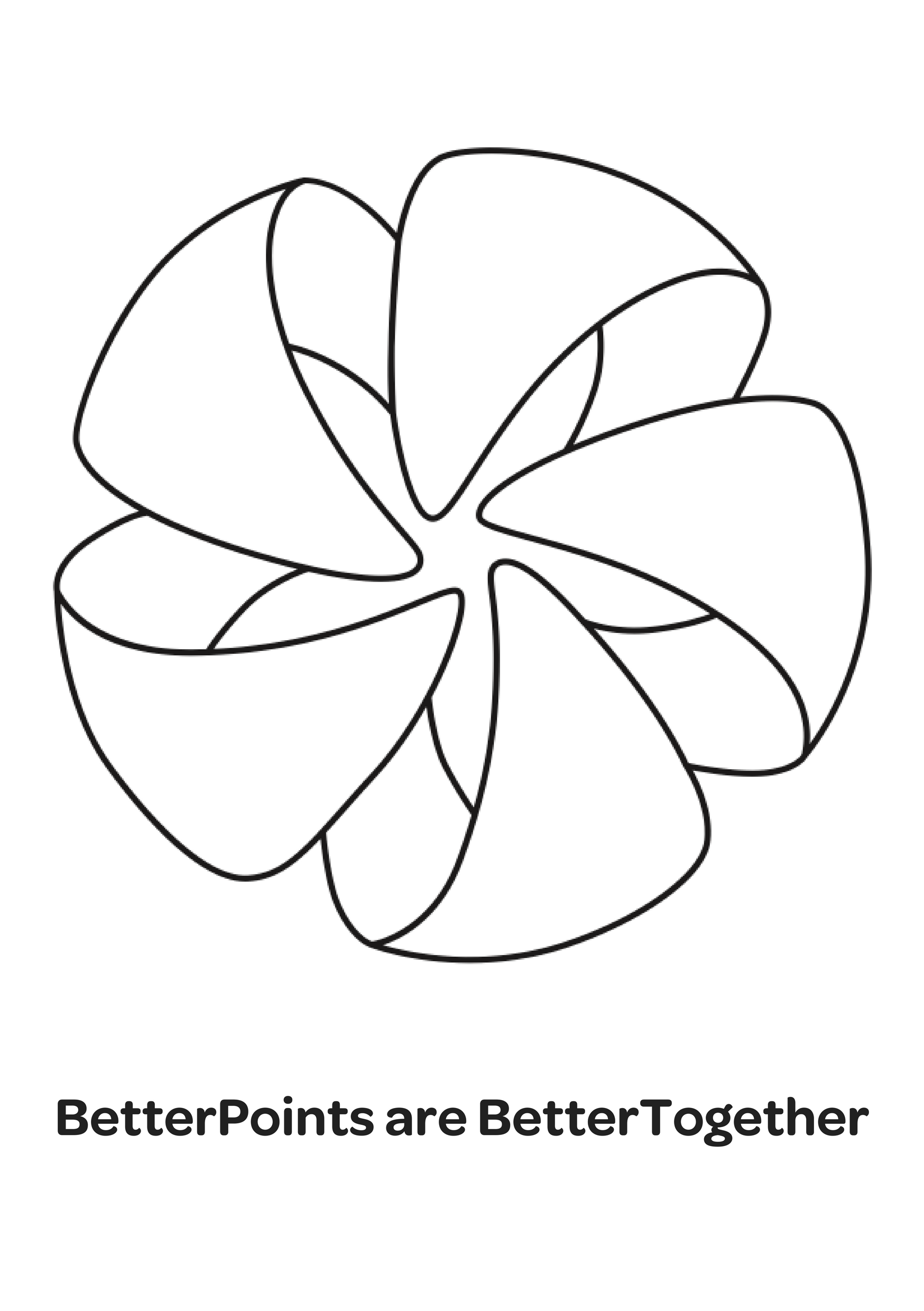 Older children 7 and above will receive a goal setting bookmark on which they can set three goals for getting out with their families in the BetterTogether programme. For example they may wish to earn a voucher, spend more time with family or find a new favourite picnic spot! Again, we'll be we'll be giving away 5 lots of 5,000 BetterPoints for our favourites and display the most inspiring and creative in a story on our website as well as feature the pictures on our twitter and Facebook pages (with permission).

Further Online Resources