You've probably read the news that nearly 95% of London's population live in areas that exceed the damaging particle limit by 50% or more.

The good news is there are schemes being implemented throughout London that show the general direction our capital is going. Five London boroughs are working with Transport for London (TfL), the Greater London Authority (GLA) and the local community to create Low Emission Neighbourhoods (LEN).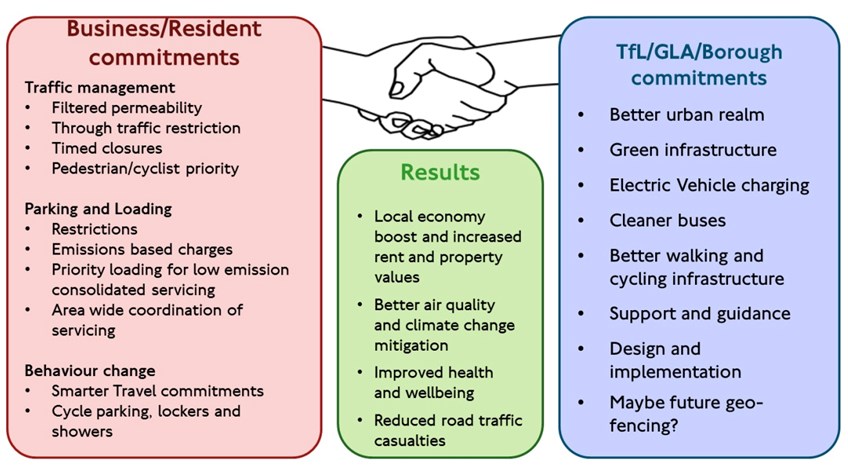 Illustration of the LEN concept by TfL
The Royal Borough of Greenwich has created a Low Emission Neighbourhood scheme in Greenwich, focusing on improving air quality in the Greenwich West and Peninsula wards. It uses a mixture of 'smart technology' and tried-and-tested techniques to reduce transport emissions and make the area a more people-friendly neighbourhood.
What is going to happen?
Match-funding from the Mayor of London has enabled the borough to spend £2 million on projects such as:
an electric vehicle car club pilot scheme

more electric vehicle charging infrastructure for residents

a zero emission delivery service for businesses

new green pocket parks

community-focused streets that are more pedestrian and cyclist-friendly

an incentive scheme to encourage walking and cycling

bus priority measures to improve their reliability and appeal.
And it has already started!
We are working with the borough to promote walking and cycling in the LEN area. If you live, work or spend leisure time in the LEN (see map for LEN boundaries) you are invited to join the BetterPoints Greenwich programme.
You will be rewarded for recording walking and cycling activities in the Low Emission Neighbourhood, and each month we'll run prize draws for 10,000 BetterPoints (worth £10).
BetterPoints can be exchanged for high-street vouchers or donated to local causes.
People living in the LEN - entering a LEN postcode upon sign-up - will be automatically added to the programme. If your home postcode is outside the LEN, add the GreenwichLEN promo code upon sign-up to enter the programme.
The next thing to do is walk or cycle as much as you can. If you are in the LEN area and are interested in finding out more about your transport options, feel free to contact the Charlton Athletic Community Trust for Personalised Travel Planning at ptp@cact.org.uk.
Thank you for helping to keep the air clean in Greenwich.