Bridgwater Way Workplace Challenge FAQs
Below are some commons questions you might have about the challenge. If you don't find the answer to your query below, please email kerri.french@betterpoints.uk
I'm self-employed, can I take part?
Yes. Workplaces of all sizes can take part, from self-employed individuals to workplaces with hundreds or thousands of staff on site. Please customercare@betterpoints.uk if you are a self employed person and want to take part.
If the challenge has already started, can I / my workplace still join in?
Yes. Employees and new workplaces can register to take part at any time for the duration of the challenge. If you don't see your workplace when you register please contact Chloe Williams cwilliams@systra.com who can add your workplace to the challenge.
How can my workplace win £100 for charity?
A £100 donation will be given as a reward to the workplaces who get the most amount of their employees taking part in the challenge. This is based on percentage engagement of staff who log at least one eligible activity in the duration of the challenge.
There are four £100 prizes up for grabs across four size categories:
Small workplaces - up to 49 employees
Medium workplaces - 50 - 249 employees
Large workplaces - 250+ employees
What type of activity counts?
ALL active (walk, run, cycle) and sustainable travel (bus, train, car share) activities of at least half a mile recorded within the Bridgwater area rewards zone will count towards the challenge.
What is the TBW Workplace Challenge zone?
To be eligible for this challenge, activities must be completed in the 'rewards zone' displayed in the map below.
Any journey by foot, bike, bus, train or car share over 1/2 mile that falls within this zone will count in the challenge.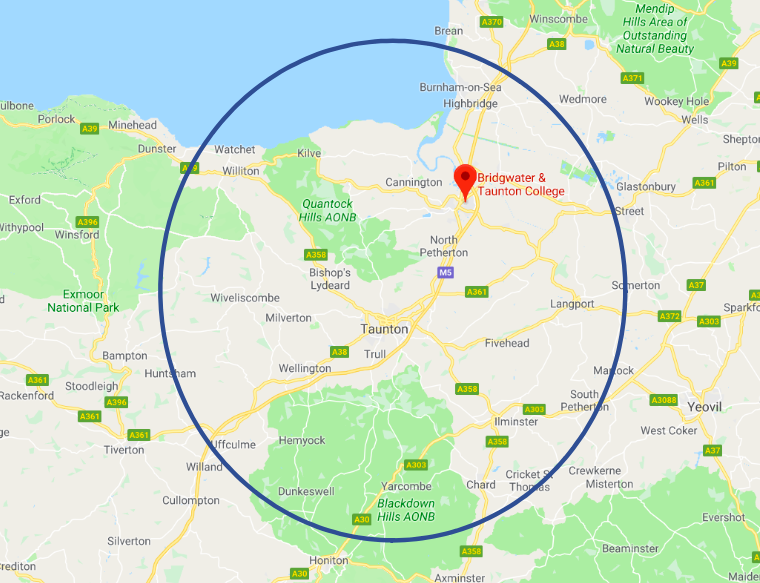 Workplace Challenge Rewards Zone

Why is this challenge only available to businesses in and around the Bridgwater Way area?
The Workplace Challenge is part of The Bridgwater Way project and has been funded to encourage people who work in the area to commute sustainably.
I live too far away from work to consider travelling by walking, running or cycling. Any ideas?
Give it a trial run, you might be surprised to realise that walking, running or cycling is an option for your commute, so why not consider giving it a go?
If this really isn't an option but you would like to use your commute as an opportunity to obtain BetterTickets during the challenge, why not consider using Public Transport instead of your car? This way you could build some walking or cycling into your journey to the bus stop or train station as well as completing your commute actively at the other end!
I want to try walking, running or cycling to work but I don't know the best route. Can you help?
Through The Bridgwater Way Workplace programme there are a number of offers available to help support you. Please click HERE to visit the website for more information.
How does the app work?
For more information about Betterpoints or how the app works, click HERE.