Below are some commons questions you might have about the challenge. If you don't find the answer to your query below, please email katie.tierney@activenorfolk.org
I'm self-employed, can I take part?
Yes. Workplaces of all sizes can take part, from self-employed individuals to workplaces with hundreds or thousands of staff on site.
If the challenge has already started, can I / my workplace still join in?
Yes. Employees and new workplaces can register to take part at any time during the duration of the challenge. Please email us at customercare@betterpoints.uk and we can add your workplace.
Our organisation has three workplace sites in Norwich and Great Yarmouth. Can we enter our organisation, and these three sites, as one workplace?
No, afraid not. Sign up to this challenge is by workplace rather than organisation so if your organisation has multiple sites in Norwich and/or Great Yarmouth you will need to register each workplace separately. Don't worry, it only takes a couple of minutes to register each workplace!
How can my workplace win £100 for charity?
A £100 donation will be given as a reward to the workplaces who get the most amount of their employees taking part in the challenge. This is based on % engagement of staff who log at least one eligible activity during the duration of the challenge.
There are four £100 prizes up for grabs across four size categories:
Micro workplaces - less than 5 employees
Small workplaces - 6-49 employees
Medium workplaces - 50-249 employees
Large workplaces - 250+ employees
What type of activity counts?
ALL walking, cycling and running activities recorded within the Pushing Ahead rewards zone, of at least half a mile, will count towards the challenge.
Where possible, we would like to encourage individuals to build in activity by replacing their car journeys with active travel. However, walking, cycling and running completed as leisure activities will also count.
What is the Pushing Ahead rewards zone?
To be eligible for this challenge, activities must be completed in the 'rewards zone' in Greater Norwich and Great Yarmouth, displayed in the map below.
The 'rewards zone' is a 10-mile radius from the centre of Norwich and Great Yarmouth. Any walking, running or cycling activity of over 1/2 mile that falls within this zone will count in the challenge.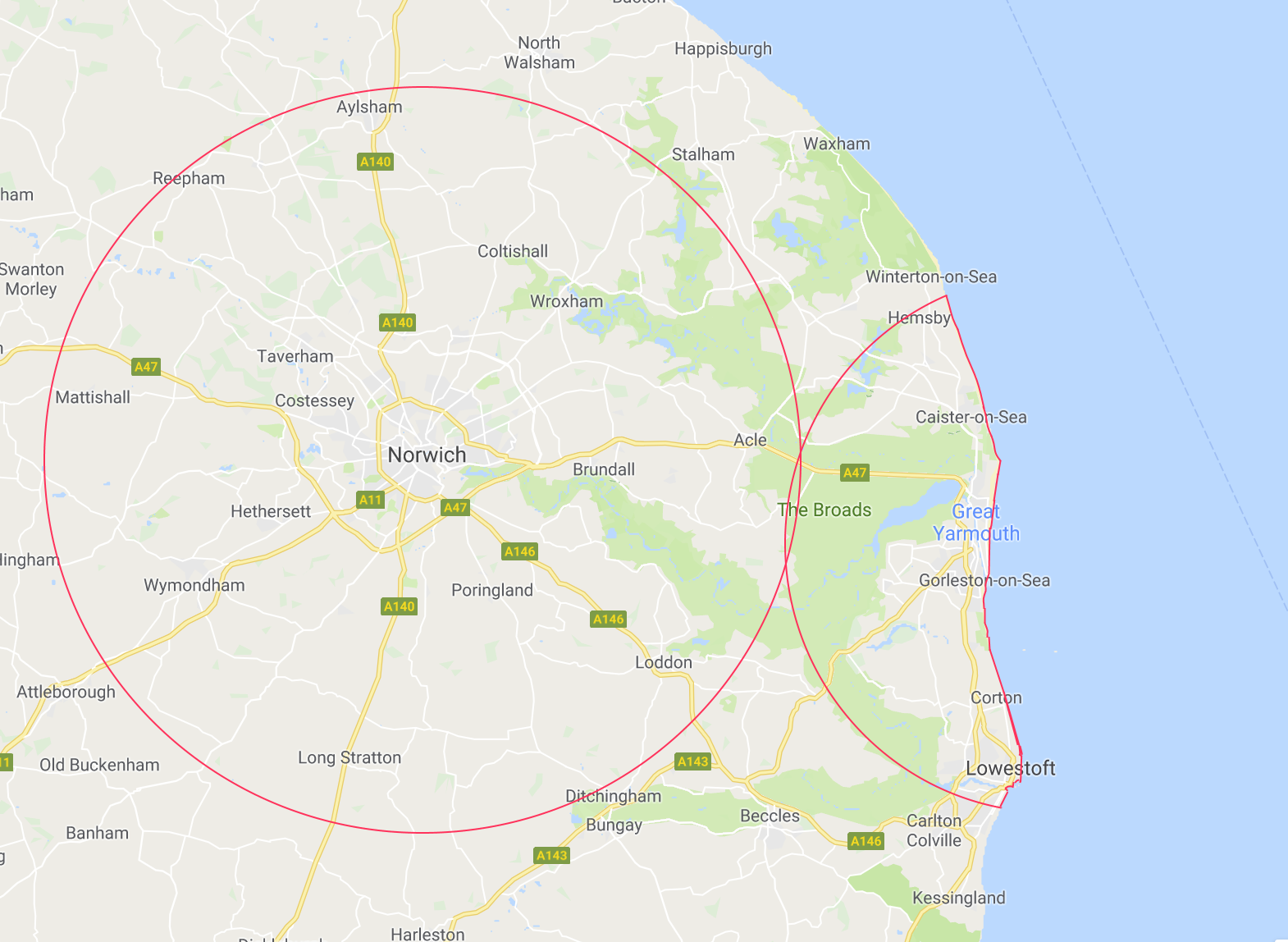 Why is this challenge only available to businesses in Norwich and Great Yarmouth?
The Spring into Action Workplace Challenge is being supported by a project called Pushing Ahead. This is a Department for Transport funded programme to promote walking and cycling, support active travel, and boost economic growth in Norwich and Great Yarmouth.
I live too far away from work to consider travelling by walking, running or cycling. Any ideas?
Given a trial run, you might be surprised to realise that walking, running or cycling is an option for your commute, so why not consider giving it a go?
If this isn't an option but you would like to use your commute as an opportunity to obtain BetterTickets during the challenge, why not consider using Public Transport instead of your car? This way you could build some walking or cycling into your journey to the bus stop or train station as well as completing your commute actively at the other end!
I want to try walking, running or cycling to work but I don't know the best route. Can you help?
Through Pushing Ahead, you can receive a personalised travel plan for the journey of your choice. Click here to visit the website. Simply enter your journey details and a personalised plan will be provided to you.
I'm interested in the idea of cycling more, but I don't have a bike?
It's always nice if you can try before you buy, so why not borrow a bike to see if it's for you? The Cycle Loan Scheme from Pushing Ahead gives you access to a FREE bike for up to 4 weeks. It comes complete with a lock, light, helmet and child seat (if you need one), all for just a £10 deposit. A limited number of electric bikes are also available for a £50 deposit.

How does the app work?
For more information about Betterpoints or how the app works, click here.